NUNIVIT CANADA 

CAMBRIDGE BAY   

Arctic char – Lake trout 

Season: July-Aug
The waters in this area hold good concentrations of 8-15lb arctic char and many huge trophy lake trout of 30lbs or more.  A typical trip will have you staying in at least three different camps accessed by float plane.  Fly fishing or spoons with spinning equipment is in order.  Throw up toward the bank, when the lure lands on the unthawed ice, give it a tug to bring it into the water, and get ready for the strike.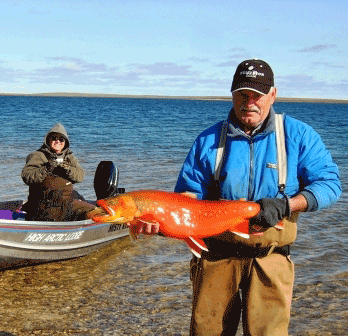 Cambridge Bay is located above the Arctic Circle and is the gateway to this most unusual fishing adventure.  The landscape is baron except for herds of musk ox and caribou, and the water crystal clear.  You won't be bumping into many other fishermen, other than an occasional Polar bear.  I made my first trip above the circle in 1973, and have been returning periodically ever since because the fishing is worth the effort.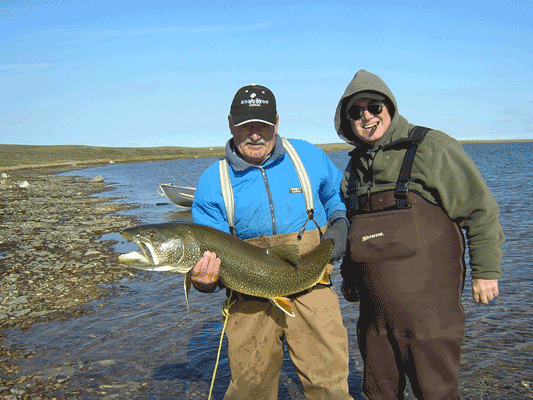 The accommodations are rustic and minimal (no running water at the outposts), but are dry and a welcome site after a day on the water.  The guides double as cooks and there is plenty of good food to eat.  If you need a lime in your Perrier, this isn't the fishing adventure for you.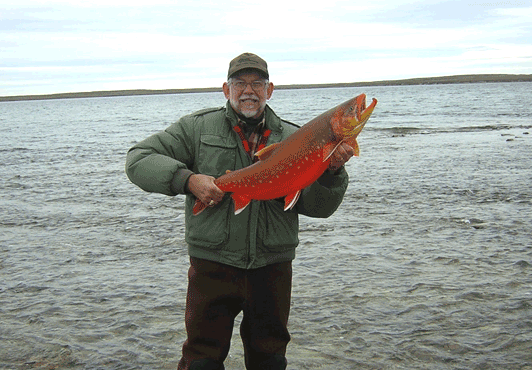 Call for current pricing for the week which includes the flying from Cambridge Bay.  Expect to overnight in on the way up and on the way back.
Every fisherman should experience this part of the world and the outstanding fishing at least once.
Musk ox hunts can be arranged from Mid August thought the first week of September. These are a collector species and the overall hunt is a great experience. Hunting pressure is limited and therefore we have excellent trophy quality. Access to the hunting grounds is by boat and float plane.
Chuck Larsen
(404) 457-6581
(404) 457-6581
e-mail: chuck@burntpine-travel.com