Peacock Bass Fishing
End of August – Mid-October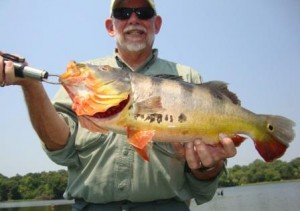 Expect to catch 35-50 peacock bass per person per day!  What they lack in size they make up in quantity.  Average about five pounds per fish. After arriving in Santa Cruz, Bolivia you take a two hour charter to Cario Negro Lodge.  This remote jungle lodge while in Bolivia is very close to Brazil. Th closest village is 24 miles by boat and there isn't even a road to that village.  I said it was remote!  After lunch and a siesta you will head to the river and fish the afternoon of arrival.  Fly fishing with streamers and top water poppers is very productive.  Spin & bait casting with top water plugs or spoons works as well. There is plenty of action.  Two of my groups have also taken great pictures of jaguars on the bank.
The bonus fish are saber tooth payara.  These tackle busting sharp tooth fish are very acrobatic.  The other frequently caught fish are piranha.
The lodge has four double rooms with in suite facilities; they are air conditioned (Sort of) It's a jungle environment. They have beer and wine and local spirits that are complimentary.  and, you wont go hungry while at this lodge the food is very good.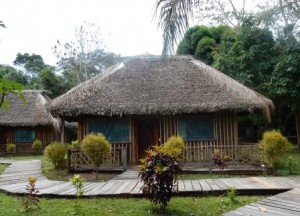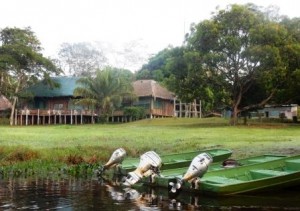 The 4 day fishing package including the required charter flight is $3995 per person (2015)
 Chuck Larsen
(404) 457-6581
e-mail: chuck@burntpine-travel.com