Five Star Wine & Food Experience
All the Ambiance of Napa Without the Expense
Anytime but it's chilly in July & August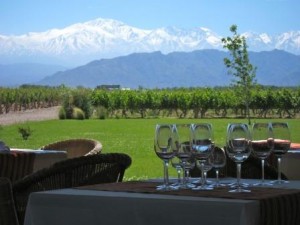 Mendoza has an abundance of world class dining and wine tasting options.  Most folks do there big meal at lunch because of the specular wine estate settings.  Most of our favorite all have spectacular views of the majestic snow capped Andes. Lunches are usually a minimum of four courses each with paired wines.  While you certainly can self drive we highly recommend using one of our proven guides to do the driving.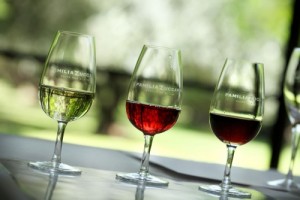 The wines found in the wine valleys of Mendoza are primarily Malbec's, Cabernet Sauvignon's, blends and excellent Sauvignon Blanc's.  In addition, to my surprise, there Champaign method bubbly is also excellent.  The wine tasting pours are also on the generous side.  Their sophistication over the past 15 years has been amazing along with their experimentation of new varietals.  Some of the worlds best and most renowned wine makes are lending a hand to really put these valleys on the world wine stage.  Vintners like Michel Rolland and Paul Hobbs are heavily involved in wine production in the region.  Men like Nicolás Catena Zapata who is called the Robert Mondovi of Argentina produces some outstanding Malbec's.  Argentina is the world 5th largest wine producer but the 10th in exports.  So, they evidently drink all theirs!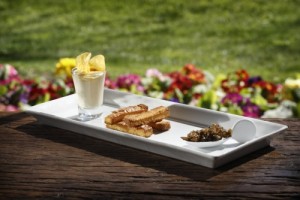 While the food and wine is "Five Star" the prices are very reasonable. I don't know anywhere else where you can get a gourmet five course meal with paired with fine wines for $50 and change.
Accommodations very from large chain hotel properties in Mendoza City to wine lodges in the wine lands. There is a wide variety to suit every budget.  Over the years we have sifted through them by trying them out and can recommend the best of them.  Above is Villa Mansa at about $150 per night to Cavas Wine Lodge a Relais & Chateaux property, which is always in the top 20 hotels in the world at $700 per night. Below is a delightful quiet and well run property Casa Glebinias.
The wine region of Mendoza Argentina is one of those places you will want to visit again.  You can also add a totally different wine region close to Salta in the north called Cafayate.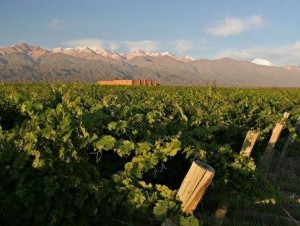 If you like great scenery, good food and great wines Mendoza is and excellent destination.  Mendoza is an easy add on to Buenos Aires tours. 
Chuck Larsen
(404) 457-6581
(404) 457-6581
e-mail: chuck@burntpine-travel.com